Chelsea legend John Terry joined the millions of fans around the world who were reacting to Messi's incredible performance against Croatia in the 2022 FIFA World Cup semifinal.
The 35-year-old, seven-time Ballon d'Or winner led his country to another World Cup final, this time against a talented Croatian. He had entered one of his unstoppable states.
John Terry, who has never played in a FIFA World Cup final, was impressed by Messi's abilities as he led Argentina to their second final in 12 years.
SOU 2-CHE 1: "I hate seeing us get beat"- John Terry insists Chelsea look very "Unbalanced this season"
Messi won his fourth MOTM award of the tournament, the most of any player in this edition, thanks to an incredible assist for Argentina's third goal and an early penalty-kick goal. Terry was extremely pleased.
Outstanding GOAT "Tonight's performance by Messi was impressive," he tweeted afterward.
Argentina has advanced to the final and awaits the outcome of the second semifinal between France and Morocco tonight.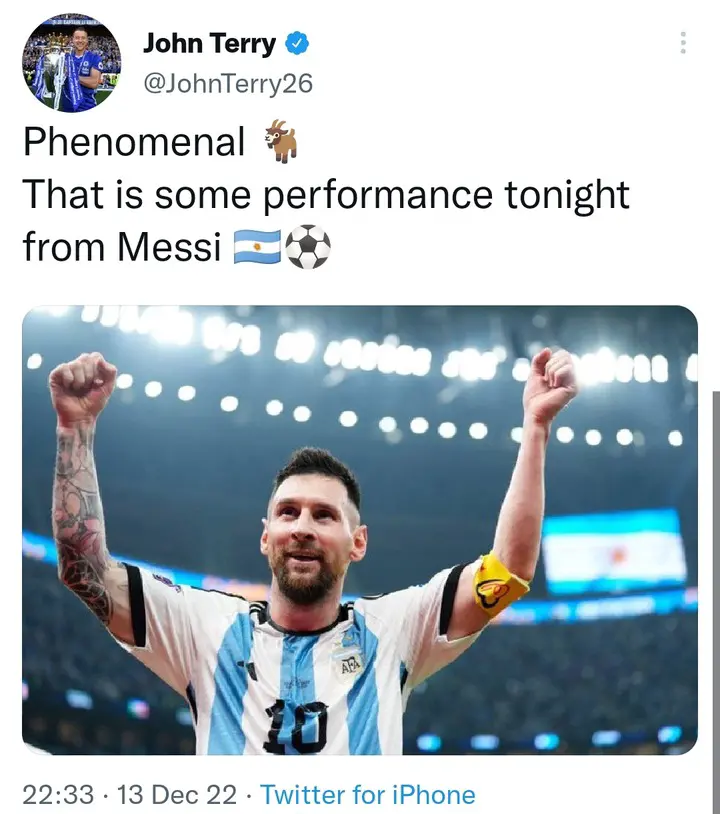 Source: Twitter