Liverpool star Trent Alexander-Arnold and Chelsea star Reece James are two of the best fullbacks in the Premier League and play for England. How do their statistics compare? Here, we'll compare and contrast the recent careers of two rising stars in the English Premier League: Liverpool FC's Alexander-Arnold and Chelsea FC's James.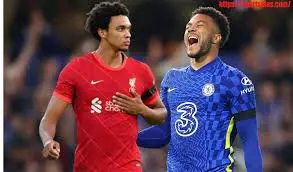 As we paint a picture of the pair's performance over the past few seasons, we plan to pay special attention to any striking similarities and disparities in their respective numerical outputs. Whether you're looking to select one of the two players for your fantasy football squad or are simply fascinated by how the pair's numbers compare, this article will offer you all you need to know.
Recent History And Introduction
Trent Alexander-Arnold
One of Jurgen Klopp's constants at Liverpool FC, Trent Alexander-Arnold has been instrumental in the Reds' success in previous seasons. Alexander-Arnold came up through Liverpool FC's junior system, making his debut for the senior team in 2016, and has since established himself as a first-string starter for the club. Alexander-Arnold has been a mainstay for England since he made his debut for the Three Lions in 2018. He is renowned for his set-piece and crossing ability.
Reece James
After coming up through the Chelsea FC academy and spending the 2018–19 season on loan with Wigan Athletic, Reece James made his way onto Frank Lampard's first team in the 2019–20 season. Since then, he has been an indispensable member of the Blues' starting lineup, winning plaudits for his play on both ends of the field. James, who can play either wing-back or fullback, debuted as a member of the senior England team in the fall of 2020.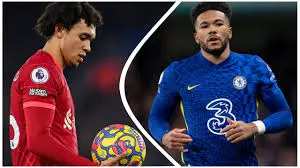 Alexander-Arnold vs James – Recent League Form
Let's compare Alexander-Arnold and James' Premier League numbers for respective clubs. Alexander-Arnold helped Liverpool FC win the Premier League in 2019-20. That season, he started 35 of Liverpool's 38 Premier League games and scored four goals with 13 assists. In the same season, James started 16 of Chelsea FC's 24 Premier League games under Frank Lampard and had two assists. Alexander-Arnold started 34 of Liverpool FC's 38 Premier League games in 2020-21, scoring two goals and assisting on seven. James had his breakout season in the English Premier League in 2020-21 when he made 32 league games (25 starts) and contributed to one goal and two assists.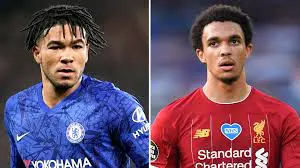 In 32 Premier League appearances for the Merseyside club in the 2021-22 season, Alexander Arnold contributed two goals and 12 assists.
EPL: "Why Reece James's contract was extended"- Todd Boehly tells Chelsea fans
James played in 26 Premier League games that season, starting 22, and had five goals and nine assists. Alexander-Arnold had a longer winning streak in former seasons, but James has been more active as of late and had his most successful season to date in 2021-22.