Good news as Chelsea are at the closing edge to get this star defender signed to the club worth £40 million, as the board finally agreed to pay the transfer fee.
No doubt, with this star player, the Chelsea's defensive side this season will be strong with the quality of players being bought in.
Meanwhile, Chelsea's business in this summer transfer window is intensifying,as they are set to replace Antonio Rudiger, Andreas Christensen and Romelu Lukaku. Tuchel is targeting Jules Kounde,Mathis De Ligt and Kalidou Koulibaly as potential replacements.
Since the arrival of attacking player Raheem Sterling is imminent, Chelsea have turned their attention to bolster their defence,ahead of the 2022/23 season. Seemingly the Londoner's have missed out on De Ligt whom have agreed terms to join Bayern Munich. According to Fabrizio Romano, Kalidou Koulibaly is close to joining Chelsea,and he is expected to sign three years contract at Stamford Bridge.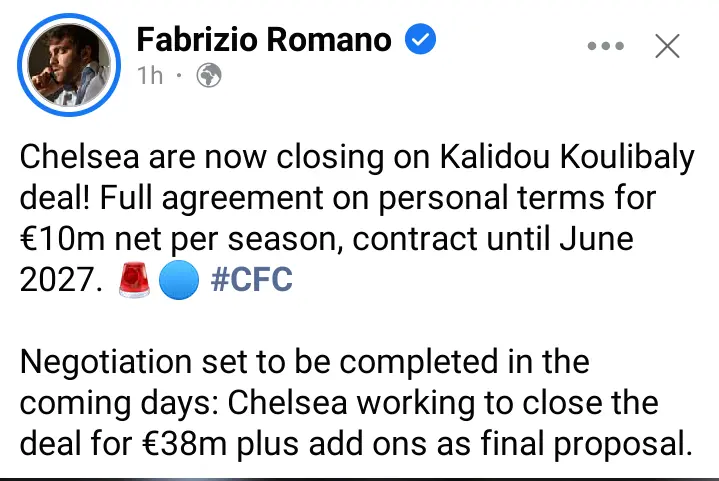 The Senegalese will cost Chelsea a whooping £40m,with one year deal left on his contract at Napoli. It was reported Chelsea were also pursuing Manchester city ace Nathan Ake,but they switched their attention to Koulibaly,as a cheaper option.
Huge announcement as Chelsea finally pay £34m to get World Class defender signed
Todd Boehly met with his agent Fali Ramadani,over a potential deal,as they prepare to battle for the premier league title against favourites Liverpool and Manchester city.